After you've shortlisted a candidate your next option will be to reject, pause or invite them to interview.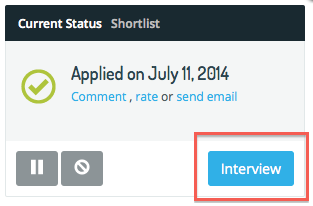 When you invite a candidate to interview, you also need to 'invite' the system so that your personal/work calendar and softgarden are on the same page.

Therefore, after clicking 'Invite' the system will ask you to complete the following steps:



Once these steps have been completed, you need to click the blue 'refresh' button as shown:
If your invitation has been received the system will let you know straight away with the following message:

If the invitation hasn't been received the system will let you know with this message:

If this appears, it's likely that an error occurred whilst you were adding the interview to your calendar.

To troubleshoot the problem we're going to go over the steps of inviting the softgarden system in more detail.

In this example we're using a Google Calendar:



Go to your calendar and create a new event by clicking on an Appointment Slot



Add the applicant number (i.e. #102151) in the event title
To invite the softgarden system, click Edit Event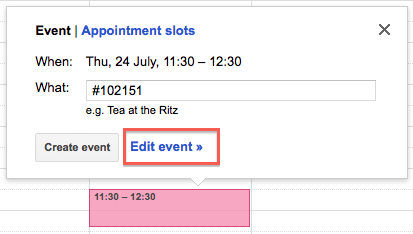 Agree to 'invite external guests'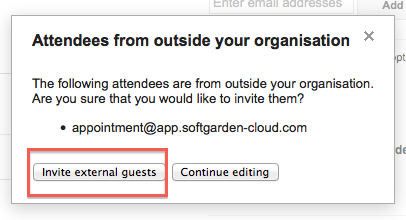 Now the system will have received your invitation to the interview. When you go back to softgarden and click 'Refresh' you should now be able to invite your applicant.



Note, If you're still having trouble please follow the link to contact our support team or use our online chat box to contact one of us directly.